To help you more easily find the resources you need for student learning assessment, we have reorganized our pages and added new resources. To get started, we suggest you read An Assessment Walkthrough, a short document that previews the learning assessment cycle and offers suggestions for beginning or continuing your assessment work.
Student Learning Outcomes | Curriculum Mapping | Direct Measures: Rubrics & Tests | Closing the Loop
The Learning Assessment Loop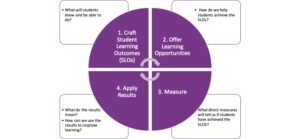 After we clarify the desired results of a course or program, stipulate what that learning looks like, and design the learning opportunity, we need a systematic way to find out if our backward design worked. Did students demonstrate the "desired results?" We use the learning assessment loop to analyze how effectively our course and curriculum designs have helped students to learn.
The learning assessment loop's four steps help us to apply research-based best practices to improving student learning. The linked pages will help you to …
Additional Assessment Res
ources
Related Resources
Student Learning Outcomes | Curriculum Mapping | Direct Measures: Rubrics & Tests | Closing the Loop