Welcome to the Faculty Development Center!
The goals of the work of the FDC align with those of the UMBC Strategic Plan to:
Provide exemplary support for educators in creating state-of-the-art undergraduate and graduate curricula delivered through innovative and effective approaches to teaching and learning.
Continue to build a culture of academic assessment to support our faculty as the primary drivers of continuous improvement in student learning outcomes.
We support faculty and instructors in their teaching role at the University by providing a comprehensive program of services and resources, including: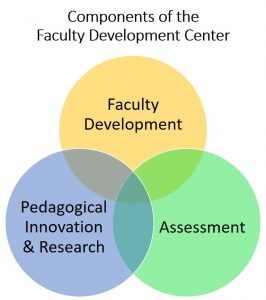 Individual consultations and classroom observations
Help in gathering student feedback through the CATALyst process
Workshops and book discussions on teaching and learning topics
Support for pedagogical innovation and research
Learning assessment services
Consultations in writing and communication in the disciplines
Management of the Hrabowski Innovation Fund grant program
Support for faculty learning communities (FLCs)
All consultation services provided to faculty are confidential and are not used by administrators or committees in making personnel decisions. For more information or to schedule an appointment, please contact us.