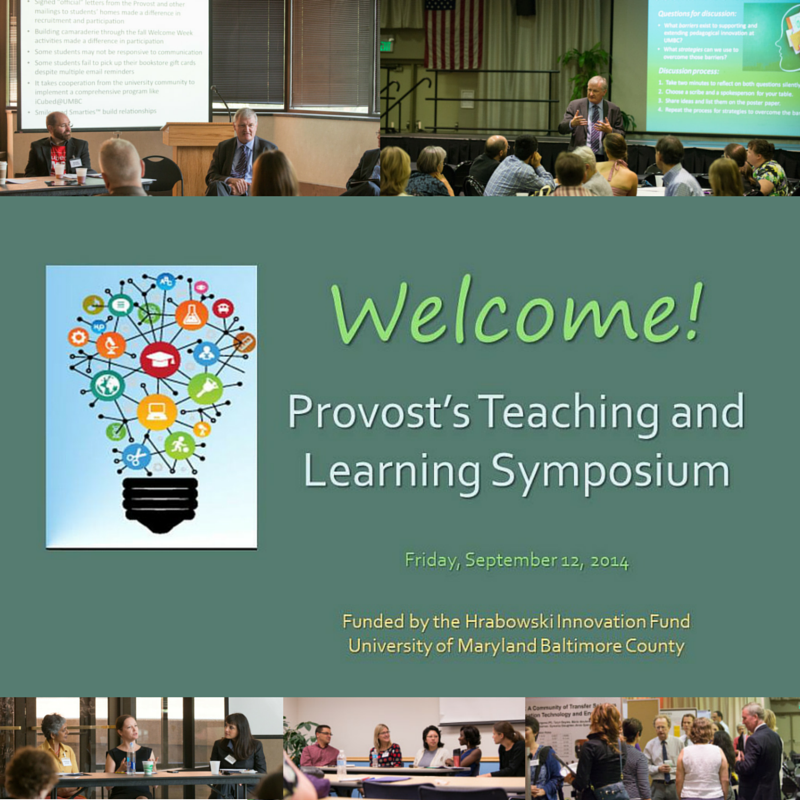 This annual symposium, begun in 2014 as part of the Hrabowski Innovation Fund initiative, brings together UMBC faculty and staff to present and discuss pedagogical innovations on campus and to plan future directions in teaching and learning.
Please visit our past presentations page to view the 2017 Keynote presentation by Dr. Saundra Y. McGuire and 2019 Keynote presentation by Dr. Peter Felten. You can find videos from the 2015 Symposium panel presentations on Applied Learning Experiences and Creating Direct Measures of Student Learning on UMBC's YouTube site.
Seventh Annual Symposium – Friday, April 21, 2023 from 12-3:30 PM.
Save the Date! This year's Symposium will honor Provost Philip Rous and celebrate coming out of the worst of the pandemic, featuring lunch, a keynote presentation, and a poster session for UMBC faculty and staff to share their teaching projects. We are excited to have Bryan Dewsbury presenting the keynote. Dr. Dewsbury, an Associate Professor of Biology at Florida International University, is a co-author on the upcoming book 'Norton's Guide to Inclusive Teaching' and author of the upcoming book 'What then shall I teach? – Rethinking equity in higher education'. He conducts faculty development and provides support for institutions interested in transforming their educational practices pertaining to creating inclusive environments and in this regard has worked with over 100 institutions across North America, United Kingdom and West Africa.
This event is a wonderful time to celebrate UMBC's commitment to student success and share our work. Please plan now to attend–good food and good ideas will abound! More information including a call for poster proposals will be shared at a later date.