Departmental Programs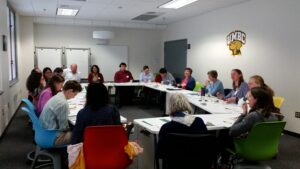 The Faculty Development Center collaborates with other departments on campus to provide orientation programs for new full-time and part-time faculty and co-sponsors the Provost's New Faculty Lunch Series on topics of recurrent interest. We organize frequent Seminars and Workshops for faculty on specific teaching topics and other areas of professional development. Visit our Upcoming Events page or visit our myUMBC group for a list of events planned for the semester. Please note that registration via the myUMBC group is required for all FDC events to receive the WebEx link or ensure adequate seating and lunch.
Seminars, Lectures, and Book Discussions
FDC sponsors seminars, lectures, and book discussions on topics of interest to all faculty. Watch our front page for announcements and links to register for programs that interest you.
Teaching and Technology
FDC works closely with the Division of Information Technology (DoIT) to help faculty members incorporate technology into their courses, including assisting faculty in creating online or hybrid course sites using the Blackboard course tool. For more information visit our Technology at UMBC page, contact the Instructional Technology Team in DoIT, or contact the Faculty Development Center.
Lists of Past Programs
Lists of past FDC programs by year are available for download.